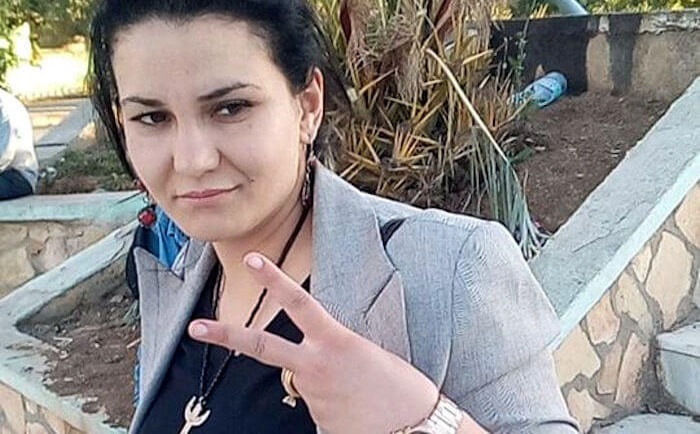 PROVISIONAL GOVERNMENT OF KABYLIA
MOVEMENT FOR SELF-DETERMINATION OF KABYLIA
MAK-ANAVAD
REPORT OF AN ASSAULT ON AN ACTIVIST BY THE COLONIAL POLICE /GENDARMES
The testimony of Rachida Ider on a day of torture in an algerian police station
The May 20th, 2017 was a hell. A hell that I could not tell in details in this testimony. But it is important that the public and international opinion knows about what we have underwent, we, the peaceful activists for an independent Kabylia, in the central police station of Tuvirett (Bouira). I invite all the sovereignist activists to write their testimonies, they, who made of this day of May 20th, 2017 a historical date for Kabylia.
At first, it is important to note that on the eve of the march, I spent the night in Rafour, and I thank the citizens and the activists for their warm and appreciated welcome. The night was very short. We hold a final meeting at 2am and actually many of us did not sleep.
The next day we took the bus to Tuvirett (Bouira). I was with about thirty activists. Kouceila Ikken, the president of the MAK-Anavad East Coordination was with us. Dozens of roadblocks and algerian policemen and gendarmes took place everywhere. They were stopping the vehicles and buses, they were searching them and searching the passengers. At this time, we knew that we were probably going to be arrested before we even reach the place of the demonstration.
Arrived at the Tuvirett bus station, the algerian repressive services were mobilized in hundreds. A true climate of war. Surprisingly, we managed to get off the bus and pick up another one without being taken in for questioning.
We got off the bus at the main entrance of Mohand Oulhadj University. Still no activists. It was 8 am.
Immediately policemen came to see us and one of them told his colleagues: « It's Ider, she's there Ider, » talking about me. They asked us to leave and as we refused, some fifty algerian repressive officers (policemen, BRI and civilians) surrounded us. I started shouting « Killing authorities ». At this very moment, they tried to contain the activist Lazhar Bessadi who was resisting. When I saw that, I went to intervene in order to prevent them from picking him up. All the activists intervened and it was a general mess. Dozens of policemen arrived as reinforcements. They were trying to contain us and all the activists resisted. No one accepted to board the police vehicles. So, hits began to fall on the activists. clubbing, punching, slapping and dragging us on the ground as well.
Then, as I continued to shout «Killing authorities, Tuvirett d taqvaylit (Bouira is kabyle) …», a scene happened where I saw red! Kouceila Ikken was dragged on the ground by five policemen who held him by the feet while he was trying to resist. He was then kicked and punched. A scene that was unbearable to me. I started shouting « Criminal authorities, release him, he's an injured of the black spring! He has no leg! You amputated it to him! You're not ashamed! « . Their hatred made them deaf and they continued to beat the activists and drag them into their vehicles. I went on the road to block the traffic. I sat down on the road. Manissa, another activist, had already blocked the road with her body! A Kabyle policeman came to see me and tried to calmly convince me to get up and follow them but I refused.
A Land-Rover of the colonial police arrived and another policeman told the driver shouting in arabic: « Go and run over her. » I then raised my arms skywards in V of Victory and I remained motionless. The driver of Land Rover then pretended to accelerate to run over me before braking. He did it for several times but I continued to chant my favourite slogans for an independent Kabylia.
Our resistance angered the policemen who hounded us even more. Many of them, when they see me blocking the road, rushed at me and started on back and ribs kicking me, a moment of unprecedented barbarism. The other girls, seeing the police brutality towards me, had the idea to make them believe that I am pregnant: « stop! she is pregnant! she is pregnant « . They did as if they did not hear. At this very moment I was in another state, I was very tired and did not understand what was going on. I could not resist and found myself in a police vehicle, exhausted. I do not remember if they managed to get me up or they dragged me on the ground up to their vehicle where the other girls, Tasedda, Manissa and Cylia were.
At the police station, it was a real hell. They led us to an office like criminals by pushing us. Four policewomen were waiting for us, two of them are not Kabyle, physically imposing. These two policewomen searched us thoroughly and even undressed us from our tops to make sure that we hide nothing
Three of us were sitting and the other two were standing. In the office where we were locked up, two other activists joined us later, Tiziri and Tannirt. They kept standing for several hours and none of us has the right to make any movement. Whenever there is someone who speaks, smiles or resists intimidations, she receives either a hit or a kick, in addition to insults and other vulgarities as a response to the slightest of our movements. Whenever a girl, who is standing, tries to sit even on the floor, she is kicked until she stands up. In this office, the two policewomen, who acted with hatred and racism, closed the window and the door. There was no air in the office and we did not even have the right to go to the toilets or even drink water. In short, an untenable situation for a human being.
Cylia fell down; she could not stand. «Let her die» said a policewoman before they put water on her face. Cylia had thus the right to sit on the floor and her request to open the window was accepted.
Later on, around noon, Tannirt, who remained standing since her arrest, vomited and was really bad. When she finished vomiting, she tried to sit even on the floor but a policewoman kicked her. After that, Tiziri fainted and fell on the floor but the two policewomen did nothing to help her. A policeman went through and as he saw her on the ground, he started shouting asking for a doctor. When this last arrived, he explained that Tiziri needs oxygen and that she needs to go to emergency room. «No way» replied a policewoman. They then lifted her to make her sit properly on the ground but she could not move her arms. She was weakened. At this very moment and because they beat me, they took me to see a gynaecologist as the girls made them believe that I was pregnant. Later on, I learned that Tiziri was taken to the emergency room.
It should be mentioned that the two Kabyle policewomen were taking part as extra. They have no right to intervene or to act. Whenever they tried to put an end to the torture we were subjected to, the other two policewomen called them of all names. The policeman who drafted the report also is a Kabyle and behaved correctly.
Many other details are important to tell. But the moment that marked me most is when they took us downstairs for fingerprints. On the way down, I heard dozens of activists singing « Independent Kabylia» while they have been kicked. Their song filled me with happiness and at this very moment, I felt that everything we underwent as assaults and insults is faded away. All the fatigue after a sleepless night, thirst and hunger, everything disappeared at this very moment. I was invaded by chills.
When I arrived to the fingerprints room, the policemen asked me where Ravah, my husband, is gone, and told me they regret that he was not arrested.
Subsequently, the police chief called me in his office for a second time. The first time he called me he quickly asked that I will be got out because I did not want to speak in arabic. For this second time he asked a policeman to translate to him. He started by telling me that he sees me as a next minister in algeria, that I am as beautiful as the girls of «Mila». He told me that if I want to do politics, he can do the necessary for me to create my own political party. Of course, for each of his remarks he received an answer of a Kabyle activist who is convinced of independence and who will stop at nothing.
When I got out of this hell, I felt strengthened and more determined. I felt credible and standing up. I went to find my husband and the activists who were waiting for us.
24 hours after these events, I still have haematomas everywhere, especially on the back, where it still hurts me very badly!
Photos of some haematomas on Rachida Ider body.
This is a testimony on the facts, as I experienced them. There is may be details which eluded me, and I rely on the activists to write their testimonies so that we can rebuild for eternity a day of unprecedented violence, physical and moral torture, which legitimizes more our fight for an independent Kabylia.
Rachida Ider,
President of the MAK-Anavad West Coordination
Translated from French by Muhend u Rezqi
NB : I translated this testimony into English in order to make the whole world knows what Kabyles undergo in algeria.
SIWEL 252046 May 17 UTC