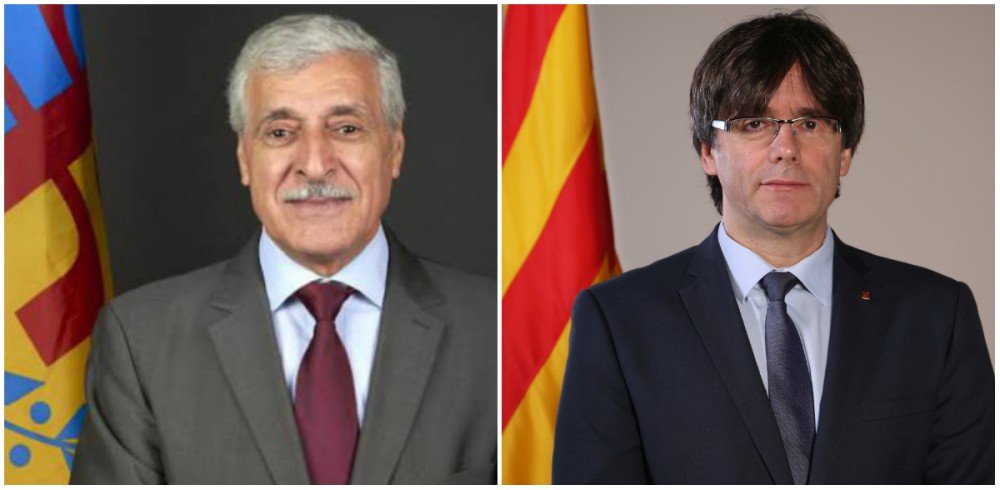 ANAVAD AQVAYLI UΣḌIL
GOUVERNEMENT PROVISOIRE KABYLE
PROVISIONAL GOVERNMENT OF KABYLIA
THE PRESIDENCY OF THE ANAVAD
The Spanish police deployment did not prevent the referendum of self-determination in Catalonia.
The use of force against voters who are determined to make their voices heard in favour of their independence, in a democratic and peaceful way, has made Spain lose face where the old demons of Francoism dangerously awake.
The unbearable pictures of women and men in blood, swollen faces, with tears but always worthy, illustrate perfectly the defeat of the repression ordered by Madrid.
This October 1st, 2017 is the day of glory of the Catalan people who has just won his right to his sovereign republic.
There will be no possible turning back. The King of Spain, who holds the symbolic legitimacy of the kingdom, should intervene and, instead of the repression and denial of rights opposed to the Catalan people, order wisdom and dialogue for serious negotiations on the modalities of separation.
Gone is the time when peoples are muzzled and subdued by violence. A people determined to live free will never again be on their knees, whatever the obstacles and ordeals.
The European Union has just been wrecked by the barbarity of repression in Catalonia. Supporting Madrid on this way will sign the collapse of civilization on its continent.
The right to self-determination of peoples is at every European country basis. To deny it would mean denying to each country the current route of its borders and the sovereignty of its territory. It is signing the most prejudicial regression to mankind since the dawn of time.
The President of the exiled Provisional Government of Kabylia (Anavad), who just submitted, on September 28th, 2017, a Memorandum to the United Nations in favour of the independence of Kabylia, makes a plea to the international community to reassert the right of peoples to self-determination. He urges the whole world to recognize the results of the referendums of the Kurdish (Iraq) and Catalan peoples.
Kabylia stands in solidarity with these two peoples who it will join the day when it will, in turn, organize its own referendum to free itself from its colonial chains and reach its sovereignty.
Exile on October 2nd, 2017
For the president of the Anavad,
Ms. Sakina At Sliman, Spokeswoman
Translated from French by Muhend u Rezqi
SIWEL 040804 Oct 17 UTC