USA (SIWEL) — A large crowd of Berber (Amazigh) residents of Algeria's Kabylia region gathered Nov. 12 at the town of Bouzeguène (Wizgan in the Berber language, Tamazight) to symbolically raise the flag of their homeland. The action was called by the Kabylia Self-Determination Movement (MAK), whose president Bouaziz Ait Chebib oversaw the ceremony.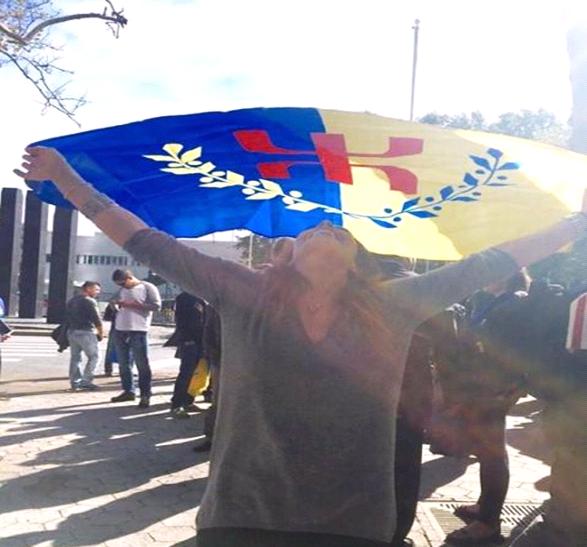 The MAK has been demanding recognition of Amazigh language and cultural rights in Algeria, and advancing a right to self-determination for the Kabylia region if these demands are not met. The crowd at Wizgan applauded when it was announced that the Kingdom of Morocco had committed to raise the issue of self-determination for Kabylia at the United Nations. (Morocco World News, Nov. 17; Siwel, Nov. 12)
This follows a similar symbolic action at the UN on Oct. 11, when some 500 Kabylians from both Algeria and the diaspora joined Ferhat Mehenni, popular musician and president of the Kabylia Provisional Government (Anavad, by its Tamazight acronym), in raising a Kabylian flag on a mobile pole outside the world body's headquarters. The flag was shortly taken down by UN authorities, but MAK's New York coordinator Mansour Bensahnoune Ulhadi expressed confidence: "The Kabylian cause has gained great momentum in the world stage and there is more work to be done on our part." In addition to Morocco's move, he noted Mehenni's recent trip to Israel, where he met with Knesset members who voiced their support for the cause of Kabylia. (WW4R; Siwel, Aug. 14)
There is some obvious political context to these alliances. The Oct. 11 action clearly recalls the official Palestinian flag-raising at the UN earlier this year, which was of course supported by Algeria and other Arab-led governments. Israeli leaders, of course, would welcome any opportunity to call these Arab-led states out on any hypocrisy. Similarly, Morocco has long been at odds with Algeria over regional disputes, and the border between the two nations is currently sealed. Algeria advances the cause of the independence movement in Morocco-occupied Western Sahara, leaving Morocco similarly eager to exploit Algeria's intransigence on autonomy for Kabylia. Morocco, for its own part, recognized limited cultural rights for the Imazighen (plural of Amazigh) in a 2011 constitutional reform—but the Berbers of Morocco (who may actually constitute a majority there) remain disproportionately affected by poverty and marginalization.
Bill Weinberg
SIWEL 041606 DEC 15